Uji Tea Promotional Calendar
The Uji Tea calendar is a work of art showing the three traditional cultures of Kyoto, "Cultural Heritage", "Japanese Tea Ceremony", and "Uji Tea". We have been producing these calendars since approximately 1950. Until 2011, we also produced a larger sized calendar as well as the current size. Many famous actresses have appeared over the years to promote Uji Tea on the calendar.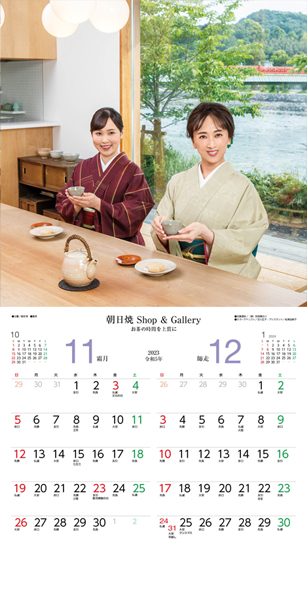 In the calendar, we will take you on a tour of cultural heritage sites in Kyoto to give you an experience of traditional Kyoto during different seasons. The scene of a tea ceremony where one puts their heart and soul into each cup of tea makes you envision a deep hidden story. These beautiful and attractive scenes in Kyoto inspire you to drink Uji Tea.
This calendar contains six pages (two months / each page). Some of the pages show a seasonal scene of tea ceremonies, where famous actresses and models are enjoying Matcha green tea and Sencha green tea. Also one of the pages shows a scene where a famous actress and children are enjoying refreshing cold tea.
The photo is attached only at the top and can be easily removed to keep it as a reference for your tea ceremony. The generous blank space on each date allows you to write memos easily. Also on the back, you will find a guide of the locations with explanatory notes and photos.

Product Details

---
60cm (L) x 30cm (W)
9-color offset printing
Six pages with color photos
Front cover included (same as last year)
Price
1,650 Yen (Tax and Shipping Fee included)
Please contact The Kyoto Tea Cooperative Association to purchase the calendar and for more information.